Clowns Without Borders was founded in Barcelona in July 1993. The idea began when Tortell Poltrona, a professional clown in Spain, was invited to perform in a refugee camp in Croatia. This performance unexpectedly attracted audiences of more than 700 children, proving to Poltrona that there is a great need for clowns and entertainment in crisis situations. He founded Clowns Without Borders to offer humor as a means of psychological support to communities that have suffered trauma.
Another project was organized for May of 1993, and this time two more artists, Boni & Caroli, accompanied Tortell, traveling and performing in the refugee camps in Croatia. What followed was a wave of performers and shows in the ex-Yugoslavia region from Spain. Iman traveled twice to this region, and began what would become a long time relationship with this group.
Now with Clowns Without Borders organizations in nine countries (Spain, France, Sweden, Germany, Belgium, Ireland, South Africa, Canada and the United States) they hope to work together to send at least one hundred projects throughout the world each year.
Visit Clowns Without Borders to make donations and learn more about this wonderful organization.
Iman's Clowns Without Borders work: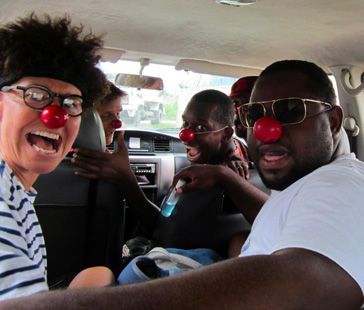 1993 and 1994 – Kosovo, Bosnia: Working with refugees in camps.
1993—Russia (St. Petersburg and Georgia): Performing at orphanages and teaching
1997, '98, '99—Cuba: Performing and teaching
2009—Nairobi, Kenya: Teaching and helping to establish the first circus school on the east coast of Africa
2009 – Somalia: Working with Doctors Without Borders in refugee camp Dadar
2010—Haiti: Performing and teaching
2012—California: Performing in State Prisons